Sports at Mayfield
Sport is an important part of school life at Mayfield.
The children participate in many sporting events, including taking part in "Heathfield Cluster" tournaments.
As well as playing competitive matches, they also play a number of friendly matches against local schools.
Take a look below to find out which clubs we have on offer this term, but please remember there is limited spaces on all clubs.
Cross Country - Second Round @ Beacon Academy
Following on from their outstanding performance earlier in the school year, 3 boys from years 5 and 6 went on to represent the Heathfield Area in Cross Country at Beacon Academy on Tuesday 22nd October 2019.
The boys were running against over 70 other competitors, with Ralph coming a great 16th place overall!! The other two children from Mayfield Primary School came in very respectful positions around 30th place.
A huge well done to the boys and a massive thank you to their parents for all the hard work and determination to keep them running in the horrible, wet weather.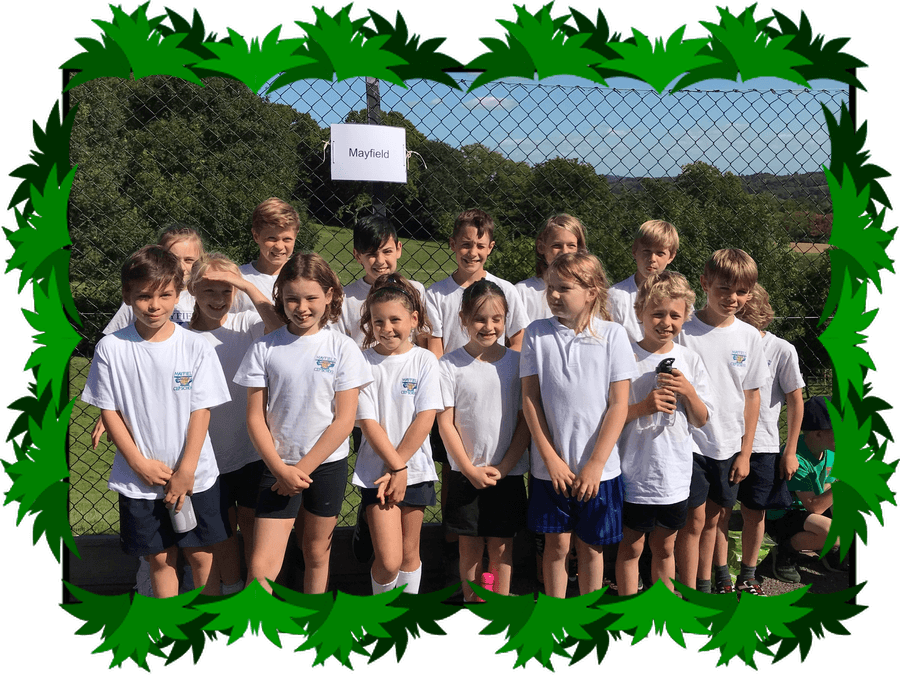 Upcoming events
Second round of Cross Country @ Beacon Academy

First round of Girls & Boys Football

First round of High 5 Netball
Sporting Successes outside of school
A huge well done to a group of Boys in years 5 & 6 who competed in a summer Criket tournament for Mayfield Cricket Club who won the whole event and took home a great Gold Medal each.
Well done to Ryan for winning a Gold medal at a Karate competition over the Summer!
Sports Report - Cricket Under 11's
In the summer holidays Ralph, Oban, Sid and Monty took part in the under 11's Sussex shield. We took part in four games to decide our place in the tournament. Let's start at the beginning games on Tuesday, Mayfield against East Grinstead. It was a very close game and we just managed to pull off a win with two tickets to spare. We had won our first match in the tournament - a good start! Our next match was on Thursday against Crawley Eagles. We won it with flying colours - a great match for us. Our Friday game was against Eastbourne and we won by 5 wickets. Ralph got 62 runs - over half a century. After winning that game we moved on to the final on Sunday. We fielded well and batted well but with a flurry of wickets it looked like it could be all over. But we managed to stay on track and won the game by just 2 wickets. We had won the tournament, a great summer of Cricket for all of us.
Sports Crew
Our Sports Crew is made up of all of our Year 6's this year.
These children will be taking part in some skills training with Mr Papper and work with a small group of children once a week to develop the skills of the children in Key Stage 1.
Their role includes:
Help organise school sports events.

Help run certain after school clubs.

Act as role models for other pupils.

Run a KS1 "fun-tastic" games lunchtime club.

Report on events, competitions and school sports clubs.

Over seeing games on the playground such as Four Square and Twister.

Ensuring equipment is available to all years during lunch times.
We look forward to seeing how they all get on with their new role!